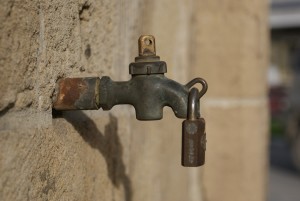 The average American has a water consumption footprint of 2,220 gallons per day. What's yours?
By now, most of us are aware that California is in the midst of a marathon drought. While you may live in an area with an abundant amount of water, we must realize that it is a valuable resource, one that we cannot live without and, evidenced by the drought in California, it is a limited resource.
A recent article in Grist compares the lack of water use consumption reduction in California to the stages of grief. While Californians have been directed by the Governor to reduce water use by 25%, the real numbers only add up to an 8.6 reduction statewide, potentially triggering Stage 2 – Anger.
The point this writer found interesting was that there is a difference between telling folks to conserve and reduce water consumption, than SHOWING them how.
A good place to begin learning how to conserve water is to know how much water you and your family or business consumes daily, weekly, monthly and annually. It's not a matter of knowing how much water flows from your faucets or goes down the drain when you do laundry. It's about the food you eat (do you eat meat, or are you vegetarian or vegan?), the appliances you use (low flow faucets and toilets) and whether you take baths or showers.
CityLab offers a calculator which "reminds us that every bite of food, every mile we drive, and every light switch we flip relies on the wet stuff."
Many of us underestimate how much water we actually use day-to-day, and year-to-year. A good deal of this underestimation stems from our neglect to account for water used to process our food and send electricity to our homes. Take a few minutes to see what your water footprint looks like and learn ways you can help conserve this vital, limited resource. You can choose to share your results with friends on Facebook, Twitter or by email.
We encourage you to answer the survey questions and share your results with us in the comments section below. Also share with your friends; it might encourage them to take the survey, too.