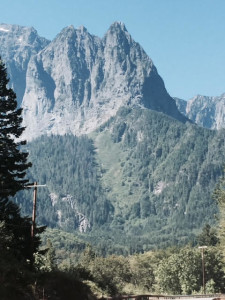 You don't get much more rural in King County than Baring, WA. With no community water available, being concerned with the impact of drilling a well, and the desire to have a clean, safe reliable source of water, RainBank's customer chose rainwater collection for their sole source of water for their remodel.
The job had its challenges, but in the end, this compact 885 square foot cabin is able to collect enough water for whole house, potable demand. Historically, this area's annual rainfall has been 42.5″ allowing for 23,432 gallons to be collected.
The 9′ wide, 20,000 lb. GVWR, wooden suspension bridge allowed only one tank at a time for crossing. Delivery of start up water due to a summer install required two water trucks to be used, one on each side of the bridge. One truck brought water from Skykomish and transferred water across the bridge to the other, to be delivered to the cisterns to stay below the weight restriction of the bridge. The bridge's weight restrictions allowed only for a small excavator to be brought across for excavation for tank placement. The home was so close to the Skykomish river, rocks larger than the excavator were encountered and needed to be navigated around for tank location. Our excavation contractor was awesome!
The filtration and pump room below the house was limited in size for the filtration train and, with winter temperatures well below freezing, along with limitations of excavation, it was decided that the sump tank needed to be placed in the small room as well. (See slides of job below.)
All of these concerns were recognized early on in the project by RainBank's team and challenges were met, resulting in a very clean 10,000-gallon install. Whole house, potable use from rainwater collection will now provide this cabin with safe, clean, reliable water for years to come with no negative impact on the environment.
"Job well done guys" exclaims Ken Blair to his crew.
This slideshow requires JavaScript.